In this background of whiteness, beauty and light, everyone can feel the perfect harmony between modernity and heritage, cleverly staged by the architect duo Aurélie Fechter and Johan Fritzell (f + f architects). In the kitchen, the chef and his team are preparing a regional and designer cuisine: roast lobster, sweetbreads, line-caught shadefish… Between refined cuisine and discreet luxury, the Girardin Restaurant in the heart of la Maison des Têtes invents a new story to awaken the taste buds and brighten the eyes.
Pets allowed : yes

Gourmet restaurant : yes

Alsatian cuisine : no

Tarte flambée : no

Vegetarian : no

Fish : no

Gluten-free : no
Additional information
Payment method : Credit card, Cheque
Type of food : Gastronomic
Practical restaurant service : Wine waiter
Internet connection : Free wi-fi
Languages spoken : French, German, English, Spanish
Number of places to eat :

room 1: : 20
Nombre total de couverts en salles : : 20

Equipement restauration : Terrace, Air conditioning
Equip./services for kids : Highchair, Children's changing area
Accommodation on site : Yes
Accreditations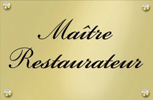 Opening times and days are liable to change according to circumstances. Please take all the necessary precautions.
Opening hours and sales service available : NHS COVID Pass mandatory