When you open the door of this beautiful restaurant, you enter in the prestigious world of French haute cuisine.
Olivier Nasti, "Meilleur Ouvrier de France", chef with two Michelin stars, and his kitchen brigade are determined to dazzle you with the presentation and the excellence of the dishes prepared with noble products, most of which come from the Alsace region.
The refined and sober setting of the restaurant is very harmonious. The tables are covered with immaculate white tablecloths and the wooded decor of the walls invites you to take a culinary and exquisite stroll through the menu: History, expression.
To begin, a lightly smoked Rhine eel "au vert" with a citrus glaze, followed by a Barbary duck with rhubarb marinated and candied in elderflower vinegar, and to finish on a sweet note, a cherry from the Alsace orchards with Timut pepper and Bourbon vanilla flan.
The talented sommelier Jean-Baptiste Klein will guide you in the selection of wines from Alsace or other French wine regions, in perfect harmony with the chosen dishes.
You will have long lasting memories of this sublime and gourmet interlude.
Pets allowed : yes

Gourmet restaurant : yes

Alsatian cuisine : no

Tarte flambée : no

Vegetarian : no

Fish : no

Gluten-free : no
Additional information
Restaurant prices (in €) :

Min. menu : 75
Maxi menu : 215
Min. menu : 210
Max. menu : 280

Payment method : Credit card, Cheque, Cash
Type of food : Gastronomic
Specialities : Game
Practical restaurant service : Continental breakfast, Food & wine matched menus available with wine by the glass, Group reception, Staff can provide advice about Alsatian wines, Caterer and banquet organiser, Wine sharing available, Wine waiter
Internet connection : Free wi-fi
Languages spoken : German, English, Italian
Practical services : Group reception, Borne de recharge pour voitures électriques
Number of places to eat :

room 1: : 41
Nombre total de couverts en salles : : 41

Group headcount : Maxi
Equipement restauration : Terrace, Air conditioning, Bar, Club, Banqueting / reception room
Equip./services for kids : Highchair, Children's changing area , Colouring books and littlel games, Possibility to heat up baby bottles or baby food, Baby changing table/mat
Accommodation on site : Yes
Accreditations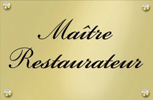 Opening times and days are liable to change according to circumstances. Please take all the necessary precautions.